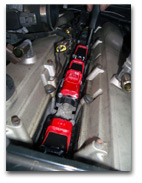 SuperSpark™ coil packs are designed to fit directly into the same position as the factory items with no modifications. Their awesome bright red outer case has been designed in a way that makes them almost double the thickness of factory items and they look great in the engine bay!
Please click on the manufacturer of your choice:
Questions about our company, purchasing process, delivery, return policy and more?
Visit our Customer Information Page
.